In our last article we reviewed the Browning Tactical Safe. Today we breakdown three of the top Car safes/Console Vault on the market.
The Ford (2009-2014) F150 Console Vault is perhaps one of the best vehicle safes around.
Suitable for use in your motor vehicle this safe will help to keep your firearms secure.
This product is used by some government agencies, which just goes to prove how effective it is.
With a wide range of accolades and mentions by those 'In the know' this particular safe is one that can be trusted. If you have a permit to carry your firearms this maybe the safe you use to keep it secure.
Features and Specifications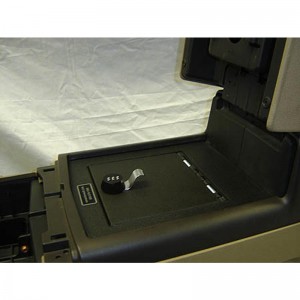 The Ford F150 safe comes with the following features:
Drill resistant locks

12 gauge cold rolled plate steel

Welded tab and notch seams

Superior 3 point locking system that helps it to prevent people prying

Bank vault style hinge latch pins

Secures perfectly to factory console bolts

Installs easily in 10 minutes
This console vault can be used in the Ford F150 years: 2009 – 2014. If you need a top quality product to keep your assets secure this maybe the car safe for you.

A Clean Finish
With its clean smooth finish, your console vault will not look out of place. If the interior of your car is grey then it will match it perfectly.
It will not be immediately obviously to other drivers or pedestrians that your car contains a vault, which gives it that little more protection.
Console Vaults for Other Vehicles
Vaults for Dodges:
One of the best console vaults for Dodge is the model #CV1000. This vault is ideal for use in a dodge truck and there will be no vehicle modifications needed. Made to fit inside your Dodge perfectly, it can be kept under your arm rest and out of harm's way.
This means you will not have to drill any part of your vehicle and even those that are leased will not be damaged so you can return it with complete confidence.
Features and Specifications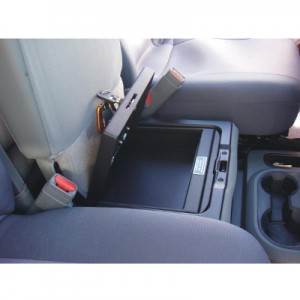 This model comes with the following features and specifications:
Rear locking hinge pins that are similar to those used on bank vaults, giving it that extra layer of protection

A balanced spring assisted lid that encourages ease of opening, which is ideal should you need to reach the contents of your vault quickly

A triple guard lock system that resists opening even if the lock is drilled

Made from 12 gauge cold rolled steel plate

Welded tabs and notch seams that ensure your valuables are kept very safe
A Secure Finish
The Dodge Console Vault can be used as a full floor consoler or even an under seat console.
The latter means the console cannot be seen when someone is looking inside your vehicle.
This will give you the confidence you need to store your firearms and other valuables in your motor vehicles.
A Console Vault for a Wide Range of Vehicles
The great news is you can buy a consult vault that's suitable for a wide range of cars, which means you could save money on a vault, but still have the same level of security you're looking for.
The Console Vault safe Chevy Tahoe/Suburban+Silverado+GMC Yukon/Sierra 1011 comes with 12 gauge cold rolled plate steel. With welded tabs and notch seams the vault will be hard to remove from your vehicle.
Suitable for use in a Yukon, Chevrolet Tahoe, or a Suburban Silverado the powder coated finish adds that special touch to your motor vehicle while ensuring it doesn't look out of place.
Features and Specifications
The three point locking system ensures it cannot be prized out of your car easily and the bank vault style hinge latch pins give you that extra level of security you've been looking for.
If you are looking for an even better level of security, then the hidden compartment will give you the reassurance you need. What's more is if you need a little bit more space to store your valuables, the access panel can be removed.
This vault comes with a combination lock as standard, but it is also available with a high security barrel key lock should you wish to have one.
This console vault that is suitable for a number of different vehicles and it can be installed in 10 minutes helping you to get that level of security you want quickly and with ease.
An Elegant Finish
The 1011 Console Safety Vault comes with an elegant sandy-colored finish that will complement your cars' interior perfectly. This will ensure it doesn't stand out which means it's not immediately evident that you have a vault containing valuables.
Remember that it's so important to keep your firearms locked up safe. Should your firearm be stolen and used, you will be the one held responsible for any damages or injuries caused. This is why it's so important for you to ensure your firearms are locked away safely so they are out of harms' way.
Bonus Deals: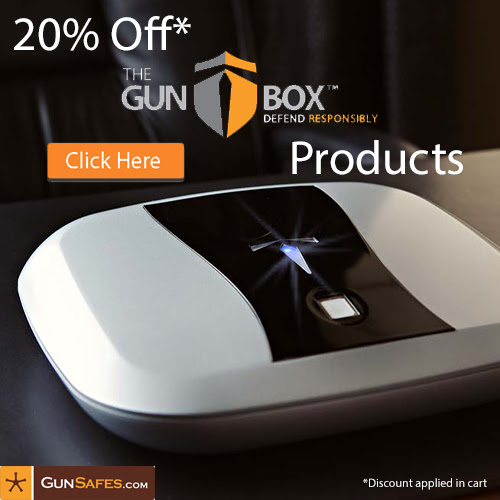 Thanks for visiting www.bestgunsafereview.com, if you liked this article please use our social buttons to give us the thumbs up.



Related Post