Nowadays, a biometric locking Mechanism, also known as keyless lock or finger print locks, has become one of the most effective latest innovations in the security devices to eliminate chances of duplication. Such devices are not only used by organizations but have become very popular for preventing access by unauthorized persons to safes.
Biometric technology is quite difficult for a regular person or user to understand but it is cost effective, non-intrusive, and reliable given that you don't have to worry about your safe's key behind lost.
Biometric locks can be classified into two classes depending on the biometric technology that each employs. For instance, physiological and behavioral biometric technologies use physical traits and individual's unique mannerisms respectively. Nevertheless, both types employ the same biometric locking mechanism.
How a Biometric lock is designed to work
As mentioned earlier, biometric locks use both physical and behavioral unique features as a way of identifying every person since no two people have identical physical or behavioral features. But, how do such locks operate?
First, these locks must be pre-programmed with your biometric data and that of authorized users who you would like to have access to your safe. In most cases, your fingerprint is considered to the primary biometric data that most biometric locks for safes use. For instance, your fingerprint has to be scanned, converted into numerical algorithm then saved in the lock's data base.
The biometric lock scans your fingerprints using optical, thermal and ultrasound technologies to map patterns. Those patterns are then assessed by complex algorithms.
Biometric Locking Mechanism Algorithms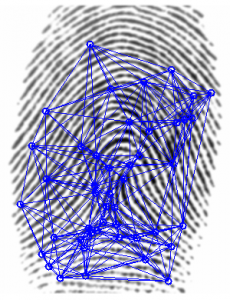 There are two algorithms,  Minutiae matching (most popular and widely used) and pattern matching (Correlation or Ridge feature-based matching) that play a big role in fingerprint recognition. Before you attempt to unlock your safe, your fingerprint must be scanned and compared with the data stored in the system. If the mapping of your fingerprint matches with the stored data, access to your safe is granted instantly.
It is quite interesting to note that it takes less than a second for the biometric lock to read and match your biometric data. On the other hand, if there is no match, access is denied. Unlike case sensitive punch code locks, no matter the number of tries, biometric locks cannot grant access to any unauthorized user whose fingerprints do not match with the stored data.
Ideally, biometric locks follow a two-step unlocking mechanism that involves scanning and identification of the users' unique fingerprint characteristics. Fingerprint recognition is considered to be the best option for biometric locks because of its accuracy and speed. It is important to note that some biometric locks are designed to operate with one or more master fingerprints which can be used to authorize other users.
Majority of such locks come with an emergency PIN code that can be used to override the biometric recognition system in order to gain manual entry to the safe if the fingerprint recognition system malfunctions. The best thing with biometric locks is that they are powered by a battery that can last for approximately one year.
Pros
One of the biggest benefits that come with using biometric locks for your safe is that they are keyless apart from the fact that they are also fancy, high tech, easy to use and install.
1. Convenience
This is another great reason as to why biometric locks for safes have become so popular. For instance, unlike mechanical locks, all you need to do is to place your finger on the sensor and wait for less than a second for the lock to unlock. Some sensors are designed to read fingerprints no matter the way they are positioned. You can also store as many fingerprints as you want.
2. Reliability
As mentioned earlier, biometric locks come with emergency PIN that allows you to access your safe when the sensor or any part of the lock is breaks down. Also, nowadays some locks come with a mechanical key. Biometric locks can function very well during all climatic conditions, for instance, they cannot be affected by extreme weather conditions.
3. Speed
This is the fastest method to gain access while maintaining a high level of security.
Cons
Technically, biometric locks can be threatened by copying of fingerprints and other biometric data by someone who understands its technology, but this is a very difficult process. Also, acquiring such a lock for your safe is more expensive than a simple turnkey lock.
Conclusion
Biometric locks are a great way to have a peace of mind when it comes to securing very important information in your office or even very valuable possessions like jewelry and guns in your home. With this technology, nothing can possibly go wrong. Get one for your safe now.
Thanks for visiting www.bestgunsafereview.com, if you liked this article please use our social buttons to give us the thumbs up.

Related Post