Buying a safe, especially if it's a Browning Gun safe, is much easier than leaving your guns or other priceless valuables at risk. Browning safes are designed and manufactured by Browning ProSteel, a company that has more than three decades of experience in the manufacture of the industry's leading safes and gun safe related products.
Each safe produced by this manufacturer has the features and the protection that your valuables need. The manufacturer's production line has a level of depth that allows you to select the best Browning Gun safe with exact features you need to provide you with the best protection depending on your situation.
Browning ProSteel safes are designed with an appealing exterior and a tough interior. While you cannot see all the security features responsible for the protection of your valuables, you can rest assured knowing that Browning uses the highs quality materials and industry leading design and structure in all their safes.
Why buy Browning safes?
If there is one advantage that makes Browning safes stand out from the rest is its features. There are very few other brand of safe that can match the innovation of Browning safes, especially when it comes to maximizing storage, access and organization inside the safe. The raised floors, external 180 hinges that allow full interior access and patented Axis and DPS shelving system enhances the safes' ease of use and convenience of access.
Browning safes are also fitted with the finest locks, the most reliable and protective cam locking systems with the best lock protection barriers and attack resistant walls in the business. It goes without mentioning that all Browning offer excellent protection against fire since they are designed with multiple layers of high density, fire-resistant insulation and seals that surround the perimeter of the each safe.
Browning Gun Safes Series (Models)
Wrong choices can have dire consequences, but if you go through the following Browning Safes Models (Series), selection of the most perfect safe for your needs is guaranteed.
Tactical Series
This is the first tactical series of gun safes ever. The models in this series, including Tactical Mark III MP23 ($1299), Mark III MP23F ($1799) and Mark II AR26 ($2599) that are more suitable for storage of special guns or any other firearm that requires special storage requirements. Tactical series of safes offer impressive features like a 60 minutes fire rating at 1200°F and a relatively higher gun capacity.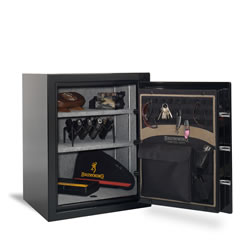 Browning Gun Safes: Compact Series
Some key features in the Compact  Series Safes include:
Pricing: $1099 range
Multiple handguns Capacity
3 Active Bolts
Cubic Feet 9
Fire Rating: 105 Minutes @ 1200°F
Overall Weight: 320lbs Range
Handle Type: Knurled, 5-Spoke, Black Nickel
Scene/Graphics: Pinstripe, Corner Graphics
Lock System: Gear Drive
2 Uni-Force Cams
Gear Drive Lock System
Products:
Browning Gun Safes: Hunter Series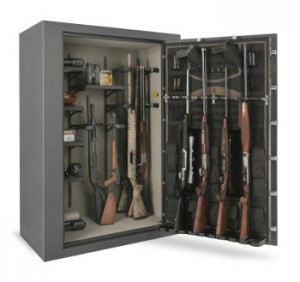 Some key features in the Hunter  Series Safes include:
Pricing: $2879 range
43 Long Gun Capacity
3 Active Bolts
Cubic Feet 9
Fire Rating: 105 Minutes @ 1200°F
Overall Weight: 320lbs Range
Handle Type: Knurled, 5-Spoke, Black Nickel
Scene/Graphics: Pinstripe, Corner Graphics
Lock System: Gear Drive
2 Uni-Force Cams
Gear Drive Lock System
Products:

Thanks for visiting www.bestgunsafereview.com, if you liked this article please use our social buttons to give us the thumbs up.



Related Post