In our last article we reviewed the Snap safe to see how it stacked up to the competition. today we looked at the Cannon H8 safe.
There are many good reasons to buy a safe and the most common is that your prized valuables need to be protected. Important documents, savings, informational data, and precious keepsakes should be stored in a proper location that keeps these items safe.
The security and protection from natural disasters, home invasion, or just about any of the possible scenarios that could result in the loss of the these items is paramount as these items are often irreplaceable. The Cannon H8 Home and Office Safe is the perfect choice for this purpose.
Door Protection
Where strength and protection meet durability and security, the H8 Home and Office safe does the job and then some. The 4 inch double strength steel door has 1 inch active locking bolts to provide the ultimate barrier and protection.
An electronic key pad is back lit to enable access to the commercial grade Type 1 electronic lock that provides the utmost in security. The safe responds to infiltration attempts through the use of Surefire multiple re-lockers that are triggered when multiple attempts to re-key the electronic lock has failed. Protecting the lock is a hardened steel casing that prevents any infiltration through force.
Body Construction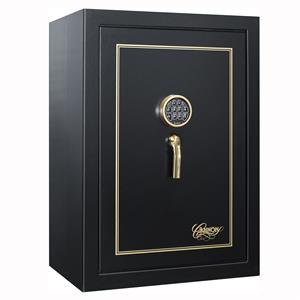 Tough, bold, and strong are three ways to describe this safe and even this description fails to gift it justice due. This safe is built to last and built to endure just about any kind of abuse that can be dealt to it. The walls are made of heavy duty 12 gauge steel that is resistant to just about any outside element.
The safe is Intertek-ETL Verified to protect against even the most extreme blaze of fire and able to withstand 1200°F for up to an hour and fifteen minutes.
The safe has a triple fin cold smoke expandable seal that expands several times its own size when exposed to extreme rising temperatures. This isolates and closes any air gaps in the safe where fire can find it's way.
For mounting on the floor, holes have been already drilled into the bottom to ease the process and provide a flush mount to the floor itself.
Cannon H8 Interior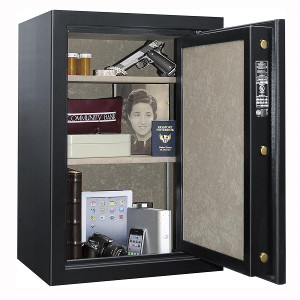 Some of the greatest features of this safe not only lie in the protection factors but also what's inside. The Cannon H8 has a self-contained electrical supply with two 110V plugs inside. This allows for the plugging in of any electrical devices that may require a charge such as a laptop or safety light.
There is also an electric USB port for charging an emergency cell phone or tablet device. These powered outlets are given their electricity via a sturdy grounded wire plug that is also used on computers.
Where this safe excels and goes above and beyond is that it also has an internal RJ45 Ethernet connection that allow for the safe storage of a network connected hard drive.
This network drive could prove to be invaluable as a safe storage of photos, copies of documents or other types of precious data that could be damaged and destroyed during a fire or natural disaster.
Conclusion on the H8
Overall this safe is amazing piece of security equipment that protects everything you would need to kept secure in your home. The rugged construction is unmatched and the interior features are beyond approach. This safe does it all and is built tough enough to withstand just about anything.

The Cannon H8 is the perfect safe for the Home or Office with features that rise above the expectations of any other safes. This is the safe where smart innovation connects with the brawn of security to provide the best in protection and safety of the contents inside.

Thanks for visiting www.bestgunsafereview.com, if you liked this article please use our social buttons to give us the thumbs up.



Related Post