The Sentry Safe HDC11E Home Defense Center 2.1 Cubic Feet is one of the more impressive gun safes on the market. It is also one of the few that meets a superior safety standard and delivers on what it promises through quality workmanship while still being "affordable".
This safe retails for anywhere between $500 and $700, and it's worth every penny if it suits your needs.
As you may have guessed from the "Home Defense Center" title, this rifle safe is designed for home protection, or certainly also the protection of a business. At this price point, it is an investment. There are cheaper rifle safes on the market. But purchasing a gun safe is very often a case of "you get what you pay for." Steel is not cheap, so a quality rifle safe should and will cost a pretty penny. If you try to skimp, you are likely to end up with a glorified storage cabinet.
If cost is an issue for you, and you also feel the need to store a rifle and handgun in the home for personal protection, financing options are available through many retailers.
Sentry Safe Specifications
Weight: 108.4 pounds
Dimensions: 8.8 inches by 8.8 inches by 46.9 inches
Unique Features of the Sentry Safe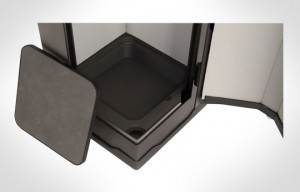 Programmable electronic lock enables you to choose your combination
Includes override keys
Innovative barrel containment system for defense shotgun or tactical weapon
Jumbo, 1-Inch corner bolts for added security
Pry-resistant door design for additional protection
Great price.
Hidden Storage
Design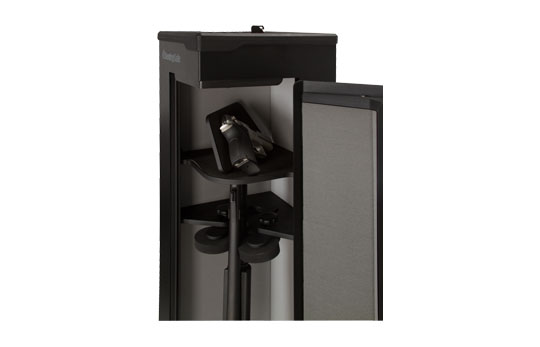 The product photos show the safe comfortably storing a shotgun and handgun, with both ready for quick access if needed. But the Sentry Safe HDC11E Home Defense Center is also billed as a rifle safe, and since it measures just shy of 47 inches high, it cannot accommodate certain long barreled rifles despite the 2.1 cubic feet of storage.
So I guess you'll just have to defend your home with a shotgun, which can be a very convincing piece of equipment.
Final Assessment
 Our rating:

 out of 5
Pros:
Quality construction
Security with quick access
Can store multiple guns (Short gun and Hand gun)
Backup keys included
Cons
Cannot store longer rifles
Not designed as a more versatile gun storage safe
Four button keypad creates a battery worry
The Takeaway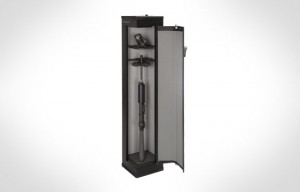 The bottom line is that the Sentry Safe HDC11E Home Defense Center is a quality gun safe. But you must decide if this is the gun safe that fits your purposes.
At best, this is likely a secondary gun safe for someone who owns multiple firearms. The Home Defense Center is designed to do precisely that, so this is not for storing the skeet shooting rifles or antique muskets.
After all, this gun safe boasts an "innovative barrel containment system for defense shotgun or tactical weapon." This safe is specifically constructed to scare the living daylights out of an intruder with an array of firepower, including a 12 gauge shotgun and a sidearm to boot. If this is not what you're looking for, perhaps consider another product.
Thanks for visiting Best Gun Safe Review, if you liked this article please use our social buttons to give us the thumbs up.

Related Post