As a manufacturer of quality gun safes Steelwater strives to understands your buying decisions by providing a varied line of Steelwater Gun Safes. The company was started by a founder who demanded quality and security above all. This lead him to came up with a list of unconditional guidelines for the manufacture of each gun safe.
It is indeed very interesting to note that his "laws" evolved the manufacturing and distribute the gun safes industry. This manufacturer believes that its measure of quality is based on customer's satisfaction. Means that the manufacturer's total commitment to production of high quality gun safes is only realized when its products meet customer's demands.
However, you will have to contact an authorized gun dealer if you want to enjoy Steelwater's excellent services with great quality at low prices.
Why buy a gun safe from Steelwater Gun Safes?
One of the greatest benefits of buying a gun safe from Steelwater Gun Safes is the fact that their safes offer you a peace of mind knowing that your guns and assets are securely stored free from thieves and any unauthorized intruder.
The companies safes a build to present the greats challenge to burglars and thieves because its steel seams are strengthened with solid welded beads to prevent against common burglary tools such as crowbars, axes, and hammers.
Steelwater Gun safes are also designed with digital locks with nonvolatile combinations with functional and memory electronics stored inside the safe to prevent manipulation by unauthorized individuals. To protect the lock from being drilled or manipulated, the manufacturer has installed a hardplate.
Steelwater Gun safes are also designed to resist pry attacks by the use of reinforced U-channel rods that connect to the locking bolts. Also, it is important to note that the safe's bolt system is gear driven for additional strength just in case of a punch attack.
Additional static locking bolts are added to the safe's heavy duty hinges located at the side of the door to prevent hinge attacks.
Steelwater Gun Safe's revolutionized distribution process. Unlike the old way which was loaded with costly steps, the consumer can now enjoy a more streamlined process. Nowadays the manufacturer sells its safes directly to the consumer with no extra mark up costs, no extra shipping costs and hence no problems handling warranties.
Basically, this means that you can purchase directly from the manufacturer and therefore if a problem arises, you can address it directly to the manufacturer.
Steelwater Gun Safes Product Serices
Click the tabs below to see the full line of Steelwater Gun Safes:
45 Long Guns Series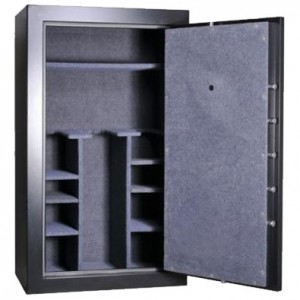 The 45 Long Guns Series offer two models, such as LD724228-BLK ($1699) and HD724228-BLK ($2600) with 1 hour and 2 hour fire rating at 1875 degree F respectively. Other key features include a composite constructed 5-inch thick door and 3 layers of fireboard in the floor, ceiling and walls.
Some key features in "45 Long Gun LD724228" Series include:
Maximum 45 (15/15/15) long gun capacity (Average Capacity: 33-39 long guns)
Weight: 888 lbs
Fire Rating: 1 Hour of fire protection @ 1875°F (very impressive)
Exceeds California Department of Justice regulatory standards for residential security containers
Heat activated expandable door seal that is designed to seal out smoke and water and expands up to 8 times its thickness in the event of a fire
12 Gauge steel construction
Total (10) 1 1/2" diameter solid steel locking bolts, (7) chrome plated active bolts with an additional (3) inactive bolts on the hinge side for a total of (4) sides of bolt coverage
Spring loaded re-locking bolt in case lock is removed during a burglary attack
Drill/Ballistic resistant hard plate to protect the lock from being drilled or manipulated
Fully upholstered grey interior that features a (3) section gun rack that can store up to a maximum of (15) long guns within each section and includes (7) adjustable/removable shelves for additional storage options
(4) Pre-drilled ½" diameter anchor holes
limited lifetime fire and burglary warranty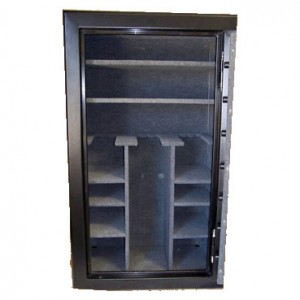 Some key features in "45 Long Gun HD724228" Series include:
Maximum 45 (15/15/15) long gun capacity (Average Capacity: 33-39 long guns)
Weight: 1,250 lbs.
Fire Rating: 2 Hour of fire protection @ 1875°F (very impressive)
Exceeds California Department of Justice regulatory standards for residential security containers
Heat activated expandable door seal that is designed to seal out smoke and water and expands up to 8 times its thickness in the event of a fire
9 Gauge steel constructed body with decorative beveled edges that features (4) layers of fireboard totaling more than 1 1/2″ in thickness with an added 1/4″ thick layer of "fire barrier" in the walls, ceiling, floor, and door jams
Total (18) 1 ½" diameter solid steel locking bolts, (11) chrome plated active bolts with an additional (7) inactive bolts on the hinge side for a total of (4) sides of bolt coverage
Spring loaded re-locking bolt in case lock is removed during a burglary attack
Drill/Ballistic resistant hard plate to protect the lock from being drilled or manipulated
Fully upholstered grey interior that features a (3) section gun rack that can store up to a maximum of (15) long guns within each section and includes (8) adjustable/removable shelves for additional storage options
(4) Pre-drilled ½" diameter anchor holes
limited lifetime fire and burglary warranty
Products Line: (Buy with Free Shipping and Discount)


Thanks for visiting www.bestgunsafereview.com, if you liked this article please use our social buttons to give us the thumbs up.

Related Post