In our last article we reviewed the Cannon H8 Home Safe to see how it stacks up to the competition. Today we look at our top 3 best biometric hand gun safe picks.
Keeping your hand gun locked away somewhere safe is crucial. Owners need to ensure their weapons are kept out of harm's way and they are only used when it is appropriate. The best way for anyone to keep their hand gun away from prying eyes and out of the wrong hands is to store it in a safe.
The market for hand gun safes is a huge one, and it can be hard to know where to start looking for the right one. The good news is it's now fairly easy to get your hands on an incredibly reliable safe. This is thanks to the development of biometric safes that will only open if the right fingerprint has been scanned. With this added level of security, you can be sure that your hand gun will be kept safe and sound, giving you the peace of mind you need.
In order to make your search a little easier, this article compares 3 of the best biometric hand gun safes.
GunVault GVB2000 Pistol Safe MultiVault Biometric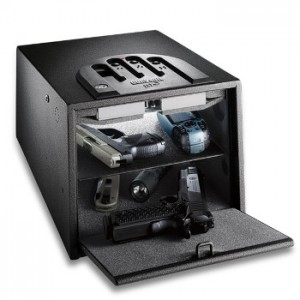 The GunVault GVB2000 pistol safe is an extremely good-looking piece of equipment. With its tamper-proof spring loaded door, you can be sure that you will have great peace of mind. The interior light helps you to easily see and identify your belongings, which means you have access to them in a hurry. The fingerprint recognition option means you can trust this safe to keep out those who shouldn't have access.
The 16 gauge steel housing ensures your hand gun; jewels, cash and other items are safe and secure. With the ability to store up to 30 different fingerprints, your employees or family members can also access the safe should they need to.
If want a modern-looking safe, this is perhaps the one for you. With the shape of a hand molded into the top of the safe, it has a very futuristic appearance and will suit anyone who loves gadgets and gizmos. But the features of this safe aren't just a gimmick, they work and they work well, helping to secure your valuables so you have the peace of mind you need.
With a weight of 14 pounds and overall dimensions of 10.1 x 7.9 x 14 inches (Width, depth height), the GunVault GVB2000 pistol safe will sit nicely in any room and give you the level of security you need.
Barska AX11646 Midsize Biometric/Keypad Safe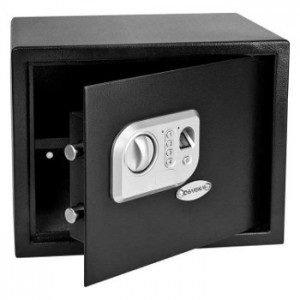 The Barska AX11646 midsize biometric/keypad safe is a great looking piece of equipment that comes with additional levels of protection as compared to many other safes.
With this safe you will have the pleasure of great peace of mind thanks to the fingerprint scanning technology and the additional keypad access. Rather than trying to find your safe keys in a hurry, you can quickly and easily access the contents of your safe should you need to.
In addition to that, you can also allow up to 31 other users to have access to your safe should you wish. This means if you're out of town someone else can access the hand gun or any other objects you want to keep under lock and key.
Some users may prefer to use the keypad function in order to access the safe, while others may be happy to have their fingerprint scanned. No matter how you wish to access what's inside the safe, the Barska AX11646 midsize will help you achieve the level of security you need so you have peace of mind.
With a weight of 14 pounds and overall dimensions of 10.1 x 7.9 x 14 inches (Width, height and depth, this is a good sized safe that can be used just about anywhere.
9G Products INP001 INPRINT Biometric Safe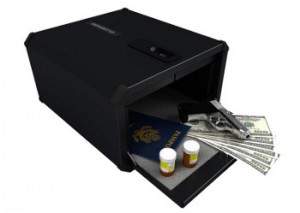 The 9G Products INP001 INPRINT biometric safe comes with many features that will make you proud to own it. With the ability to scan your fingerprint so you're the only person who can access the safe, this product also comes with key back-up and unique keys.

With the ability to store your hand gun and a wide range of other objects, this safe can be mounted on to just about any surface.

Available in 8 different colors, this safe is perfect for anyone who wants to add that special touch, while ensuring their valuables remain safe at all times. Camouflage print safes are available and may be perfect for combat training, or brightening up a dull office.

With a single finger operation, you can quickly and easily access your safe in a matter of moments. The spring loaded door means you can get to the contents of your safe in a hurry if you need to. This provides you with an extra level of reassurance should you need it.

The storage shelf provides you with the chance to keep even more objects in your safe should you wish to. The easy-to-install shelf can be installed within a matter of moments, helping you to get the level of protection and reassurance you need.

With a smooth black finish, this safe looks good and will sit nicely in any room.

With a weight of 15 pounds and overall dimensions of 11 x 12 x 7 inches (Width, depth, height) this safe is easy to store in just about any room, and will be a welcome addition to your home or place of work.

Think about what you wish to store in your safe and who you wish to have access to the contents. If there's a chance you need to get to the contents of your safe quickly, you may want to purchase one that comes with a spring-loaded door. Alternatively, if some users aren't sure about the fingerprint recognition option, you may want to purchase a safe that also comes with a keypad so combinations can be entered.

Get the level of security and peace of mind that only comes with purchasing a new and modern safe. That has the ability to store your valuables and your hand gun.

Thanks for visiting www.bestgunsafereview.com, if you liked this article please use our social buttons to give us the thumbs up.



Related Post