In our last post we looked at Console Vault Safes. Today we review Dehumidifiers. When you're on the lookout for a dehumidifier to use in your gun safe, chances are you're going to be looking for one that does the job quite nicely. Your firearms and associated equipment are probably very valuable to you, which means you'll want to take good care of them.
The right dehumidifier can mean the difference between having a gun that works well, and one that is starting to go rusty. This article explores three of the very best gun safe dehumidifiers in the hope that your search for the right one will become that little bit easier.
Eva-dry Renewable E-333 Wireless Mini Dehumidifier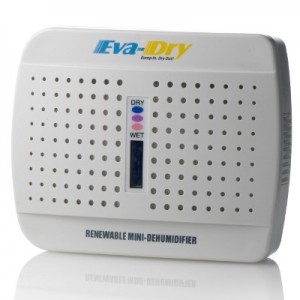 The Eva-dry E-333 wireless dehumidifier is perfect for smaller gun safes that are at risk of damp, mildew and mold. Ideal for use just about anywhere, this dehumidifier is silent and will work to get rid of excess humidity for up to 10 years.
Because this product contains renewable silica gel, there is no need for batteries or any form of power. Ideal for areas no more than 333 cubic feet, excess moisture will be absorbed and the indicator window will let you know when it's time to remove the dehumidifier and place it in a well-ventilated area so it can dry out.
With the ability to store up to 6 ounces of water, it should take between two and four weeks before the indicator turns to pink, depending on the conditions of your gun safe. Once the indicator is pink the dehumidifier will need to be dried out for up to 10 hours before it can be placed back in your safe once more.
Although small (6.2 x 1.2 x 4.8 inches) this dehumidifier will work well and it can be used for up to 10 years without needing to be replaced. If you're looking for a solution to your excess moisture issues, this could be the dehumidifier you need.
Lockdown Dehumidifier Rod, 12-Inch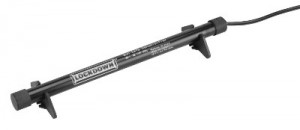 If you're looking for a dehumidifier that doesn't take up too much room, you may want to think about buying the Lockdown Dehumidifier Rod. Measuring 18 x 5.2 x 1.1 inches, this rod will remove moisture in areas up to 100 cubic feet. The rod is very easy to install and works by constantly maintaining an air temperature that ensures warm air circulates throughout your gun safe constantly.
The higher temperatures ensure there is no mildew, condensation or humidity present in your safe, which means you won't need to worry about the condition of your firearms.
Although the rod raises the air temperature slightly, there is no need for concern as there will be no fire risk. In fact some users have reported being about to touch the rod for a few moments without being burnt.
Easy to install, the dehumidifier rod will work well and ensure nothing inside your gun safe is affected by damp or cold air.
Stack-On SPAD-100 Wireless Rechargeable Dehumidifier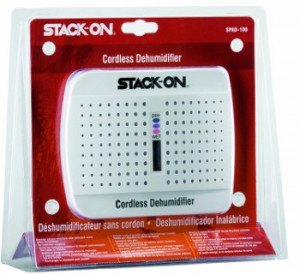 With the ability to absorb any excess moisture from 100 cubic feet, the Stack-On SPAD rechargeable dehumidifier works well to ensure you have no moisture associated issues. No batteries are required which means you won't need to keep checking to see if they need replacing.
The moisture gauge on the front of the dehumidifier indicates exactly when this product needs to be charged. This means you'll need to remove it from your gun safe and charge it overnight so it's ready to go the next day.
Depending on the level of moisture in your gun safe and your home, you may find this product needs to release the moisture every 4-6 weeks.
Once the unit has absorbed its maximum amount of water, plug it in and the moisture will be released. You will need to make sure it's released into a well-ventilated room such as a garage, utility room or any other part of your house that won't risk getting damp. Ideally you should leave the dehumidifier plugged in for up to 10 hours so it can release the water. Once the indicator shows that it's ready to absorb water again, simply place it back in your safe and it will get to work once more.
You can rely on this specific dehumidifier to keep your firearms safe and free from rust. Although small it is cordless and will work hard for you, giving you a good level of protection that will keep your guns and assorted paraphernalia in good condition through-out the lifetime of this product.
Hints and Tips
Make sure you have enough room in your gun safe for a dehumidifier.
If your safe is very damp, you may need to keep checking your dehumidifier to see if it needs recharging. After a while your gun safe will start to dry out and you won't need to recharge your dehumidifier so much.
Bonus Deals: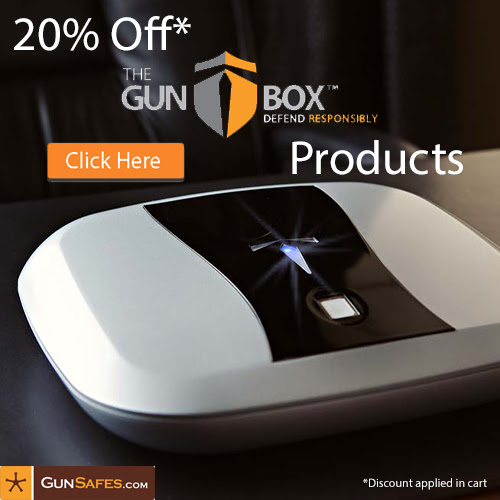 Thanks for visiting www.bestgunsafereview.com, if you liked this article please use our social buttons to give us the thumbs up.



Related Post